The House of the Devil (reviewed by Lisa Marie Bowman)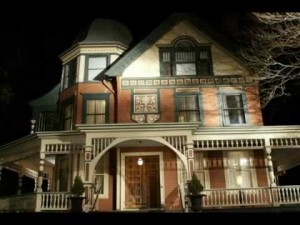 When was the last time you actually saw a good movie on Chiller?  Seriously, it doesn't happen that often and perhaps that's why, when  I recently curled up on the couch and watched 2009's The House of the Devil on Chiller, I wasn't expecting much.  However, I was pleasantly surprised to discover that The House of the Devil is actually one of the most effective low-budget horror films that I've seen in a while.
The plot of House of the Devil is pretty simple.  Samantha (a likable performance from Jocelin Donahue) is a college student who has just moved into her first apartment.  However, Samantha can't really afford to pay the rent so she agrees to take a babysitting job for the mysterious Mr. Ullman (Tom Noonan, who is just so creepy in this film).  Ullman offers her one hundred dollars to come babysit for the night.  Samantha agrees and, with her skeptical friend Megan (Greta Gerwig, who is hilarious here), drives out to Ullman's home.  It turns out that Ullman lives in an isolated house out in the country and that he actually doesn't have any children.  Instead, he wants Samantha to babysit his aging mother while he goes into town so he can watch the lunar eclipse which just happens to be happening on that exact night!  Samantha is reluctant but agrees to stay when Ullman offers to pay her $400.00.
And can you guess where this story is headed?
This film isn't titled House of the Devil for nothing.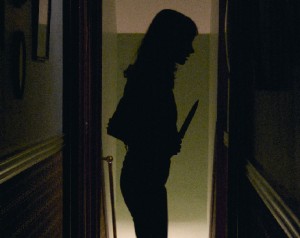 As I said before, I wasn't expecting much from The House Of The Devil.  I was honestly expecting it just to be a typical, low-budget Chiller horror film, good for nothing more then maybe a laugh or two and maybe a few memorably silly gore effects.  Having now seen the film, I'm very happy to say that I was incorrect.  The House of the Devil is a well-made, effectively creepy horror film and it's one that other horror filmmakers could very much learn from.
Don't get me wrong.  The plot of House of the Devil isn't going to win any points for creativity.  Even if the film didn't open with a wonderfully self-concious title card informing us that the movie is "based on a true story" of Satanic activity, it would be pretty easy to figure out that nothing good is going to happen once Samantha goes into the house.  But that actually works to the film's advantage.  The House of the Devil feels like an old ghost story told at a sleepover.  You know where the story's heading but you get scared nonetheless because, ultimately, it's the type of story that plays on the fears that everyone has.
Also, in the style of the scary ghost story told by a storyteller with a flashlight pointed up at her chin, The House of the Devil understands that the best horrors are the ones produced by an overstimulated imagination.  With the exception of two or three scenes, this is not a gory film nor is it a film that sadistically lingers over scenes of torture and carnage.  Instead, director Ti West takes his time to set up both the story and the characters.  This is a film where the horror comes more from a carefully constructed atmopshere than any sort of easy shock effects.  As a result, this is a horror film that actually stays with you after you watch it.
The House of the Devil is a film that I'm very happy to recommend.