HorrorCritic.com is the brainchild (or perhaps demon child) of a guy named Steven who happens to be a lifelong fan of horror movies, books, art, and music.  Steven has a particular fondness for 1970s horror films with their gritty appearance and tone-downed special effects where the story is more important than the buckets of blood.
One day Steven stumbled upon the writings of Lisa and asked her if she'd like to put her wonderful macabre writing skills and knowledge on the pages of a new horror critique site that seemed forever stuck in the bowels of creation hell. Thankfully, she agreed, and the site was born with ghastly pangs.
As the site has opened its creaking wooden doors, other contributors have pledged their blood to the cause: NikAngel and SatansTouch.
Once the cobwebs have been brushed away, we hope HorrorCritic.com will construct into that creepy wooden cabin in the middle of the dark woods where your curiosity causes you to visit often because you're intrigued by the melancholy blood-written words scrawled on the crumbling walls.
---
Help Promote Horror Critic
If you would like to spread the word and your blood to help promote HorrorCritic.com, here are some banner ads you can use on your site to advertise us. Please let us know what you have done, so we can thank you.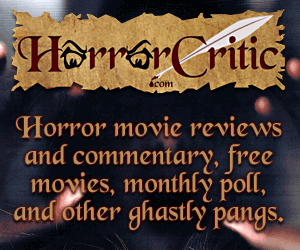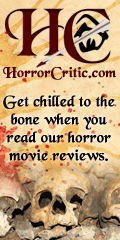 Skip back to main navigation