Bates Motel 2.5 "The Escape Artist" (Reviewed by Lisa Marie Bowman)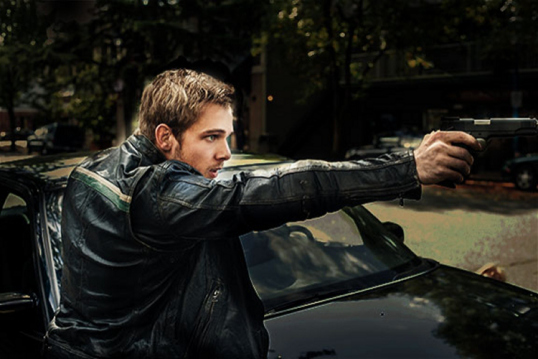 After I posted my extremely laudatory review of last week's episode of Bates Motel, I received a very interesting comment on Facebook from the veteran horror director and screenwriter Alan Ormsby.  (Among Ormsby's screenplays: the excellent Deathdream and  Deranged, a film inspired by Ed Gein who, as any Psycho fan knows, also inspired Robert Bloch to first create Norman Bates.) In his comment, Ormsby pointed out something that I had failed to take into consideration.  Whereas Bates Motel presents Norman as suffering from a split personality as a teenager, Psycho established that Norman didn't "become" Norma until, after years of abuse, he snapped and murdered his mother.  Norman became his mother because he didn't want to face the reality of his crime.
That's quite a contrast to the story that is currently being told on Bates Motel.  Whereas Mrs. Bates was the villain of Psycho, she's become the protagonist of Bates Motel. Whereas the film's Mrs. Bates was a demonic force who, even after her death, continued to possess her son, the show's Norma Bates is often times portrayed as just trying to protect both her son from an increasingly amoral world and the world from her obviously disturbed son.
Now, I know that a lot of people are going to argue that Bates Motel is just a TV show and that it's best not to give it too much thought and they'll probably start tossing around words like "canon" and "fanfic."  They'll say, "Just relax and don't worry about it."
But what fun is that?
So, how to explain the difference between the way Norman and his mother are portrayed on TV and in the film?  I've come up with a few possible explanations.
1) The doctor at the end of Psycho could have misdiagnosed what happened with Norman and his mother.  As played by Simon Oakland, the doctor was awfully glib and seemed to come from the overdramatic Dr. Phil school of psychology.  After the shocking discoveries at the Bates Motel, everyone needed an explanation and the doctor was happy to provide one as long as he got paid upfront.
2) Bates Motel could be taking place in a parallel universe, one that plays out right next to the Psycho universe, with certain elements occasionally crossing over.  Maybe, when Freddie Highmore's Norman finally gets around to looking through the peephole behind the painting, he'll find Anthony Perkins staring back at him.
3) Maybe the Norman Bates of Bates Motel is not actually the Norman Bates of Psycho. Maybe the TV show will end with Norman and his wife Emma staring down at their newborn son, Norman, Jr.
4) Or maybe Norma is destined to be murdered by her son and that son is destined to take on her identity, run the Bates Motel, and eventually murder both Marion Crane and Milton Arbogast.  However, maybe that son is not going to be Norman but instead, it's going to be Dylan.  After all, Dylan has been through a lot of emotional and mental turmoil since he tracked down his mother.  Who is to say that he didn't finally snap and, after killing both his mother and his younger brother, ended up taking on both of their identities?
Obviously, the most plausible solution is the first one but I'm partial to the idea that Bates Motel is taking place in a parallel universe.  That would certainly explain a lot.
As for this week's episode, it was a rather low-key affair, especially when compared to everything that went on last week.  But you know what?  That's okay.  Bates Motel has reached the point where not every episode has to have fireworks.  In its second season, Bates Motel seems to be a lot more confident about what type of story its trying to tell and therefore, it can get by with a few episodes that are mostly about appreciating the performances and the show's off-center vibe.
That's not to say that things didn't happen.  Actually, a lot of things happened but none of them were quite as memorable as Norman waving a knife at his uncle while taking on Norma's personality.
Perhaps the episode's most dramatic moment was Dylan getting run down in the middle of the street while firing a gun at a car full of rival drug dealers.  (I don't find the whole drug war to be all that interesting but I do find it amusing that, in the small town of White Pine Bay, nobody ever seems to notice people shooting at each other in broad daylight).  At first, this panicked me because, as played by Max Thieriot, Dylan is one of my favorite characters on the show.  But, it turns out that not only was he not seriously injured but, after being taken to the hospital, he also got to meet his boss and — gasp! — she's a woman!
We also found out tonight that, on the other side of the drug war, is the Ford Family.  And guess who is in charge of the Ford Family?  None other than Nick Ford, the friendly but slightly sinister guy who has promised to help Norma stop the bypass.  This week's episode ended with the implication that Nick killed the councilman who was so rude to Norma at the city council meeting.
Speaking of Norma — well, where to begin with what's going on with Norma?  Not only has she managed to ally herself with a drug lord but she's also having to watch Norman as he runs around with Cody, a girl who not only has tattoos but who smokes and listens to loud music as well.  On the plus side, Sheriff Romero will apparently be spending several months at the Bates Motel now that the town's drug dealers have burned down his house.  The scenes between Vera Farmiga and Nestor Carbonell were definite highlights of this week's episode.  I love the chemistry between the outspoken Norma and the withdrawn Romero.  I'm predicting right now that they'll be a couple before the final episode of the season and it probably won't end well.
Vera Farmiga also had another great scene during this episode, in which she responded to Olivia Cooke's Emma asking her about sex.  Speaking of Emma, she lost her virginity to the cute pot dealer.  Norman has already hinted that he doesn't consider the cute pot dealer to be a good person so we can probably guess what's going to eventually happen here.  That said, I'm just glad that Emma finally got to do something that she wanted to do, as opposed to just standing in the background and staring forlornly at Norman.
And finally, Norman is growing even closer to Cody, eventually having sex with her.  (And, again, this is more evidence of my parallel universe theory since the Norman Bates of Hitchcock's film was a virgin.)   Eventually, he even confessed to her that he often has blackouts.  He also discovered that she comes from an abusive home.
And again, this is probably not going to end well…
Random Observations:
Nick Ford's boat is named "Amnesia."  What is it with evil people and boats?
Did Norman kill Uncle Caleb?  Hopefully, this won't be another randomly abandonedBates Motel subplot.