Bates Motel 2.4 "Check-Out" (Reviewed by Lisa Marie Bowman)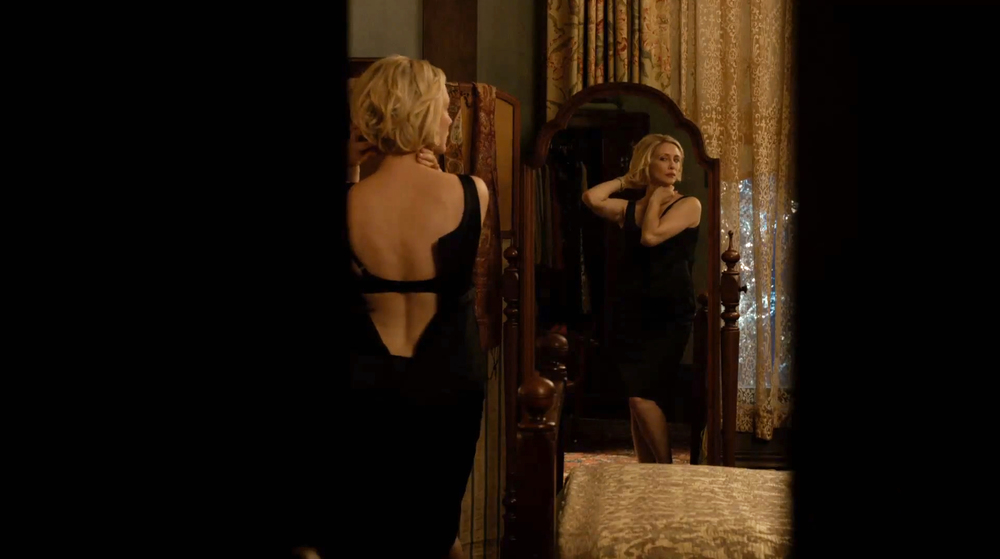 As this week's episode of Bates Motel came to an end, my immediate response was to say: "Now, that's what I've been talking about!"
Much as Norman Bates could never quite decide if he was himself or if he was his mother, Bates Motel has always struggled with whether to fully embrace the over-the-top potential of the show's concept or whether to try to be a more conventional and audience-friendly show.  Those of us who have been watching since the first episode have often been left to wonder whether Bates Motel would ever truly allow its version of Norman Bates to become as mentally conflicted as the version who showed up in Alfred Hitchcock's film and Robert Bloch's novel.  I have always been on the side of those who wanted the show to start boldly going over-the-top and to truly embrace its status as a prequel to Psycho.
The first three episodes of the second season provided hints that the show's producers agreed with me.  Last night's episode, however, proved it.
The episode's final moments , which featured Norman (Freddie Highmore) slipping in-and-out of his mother's personality while waving a knife at his Uncle Caleb (the same type of knife that was used to kill Janet Leigh in Psycho), were so powerful that they tended to overshadow everything else that happened during the previous hour.  Now, in the case of the drug war subplot, I really don't mind forgetting.  The drug war is probably the least interesting part of the show and I always find myself hoping that each new episode will be the episode that wraps it up.  Both Dylan (Max Thieriot) and Sheriff Romero (Nestor Carbonell) are interesting characters and they're both played by talented and appealing actors so why not put them in a subplot that is truly worthy of their talents?  Both of these characters are at their strongest when they're having to deal with Norma and Norman so why waste time with a plot that — so far at least — has nothing to do with either of them?
However, I did enjoy the episode's other two storylines.  It's hard not respect just how determined Norma (Vera Farmiga) is to pretend that everything is normal when it's clear to everyone else that nothing is normal.  As I've stated since this show began, Vera Farmiga kicks ass.  As a result, even though we all know that she's making the wrong decisions and is raising a future serial killer, it's impossible not to cheer for her.  From the creepy scene where she and Norman talked to each other while laying in bed to her harrowing argument with Dylan to her hilariously awkward date with George (Michael Vartan), this week's episode was full of classic Farmiga moments.  Incidentally, I still don't trust George.  He seems like a nice guy but then again, so did Deputy Shelby.
(Speaking of Deputy Shelby, whatever happened to that girl who chained up in his basement?  Is she still running around in the woods?)
Meanwhile, Emma (Olivia Cooke) may have finally found a boyfriend.  She started the episode waking up in a motel room with the cute guy that she met at Bradley's beachside memorial.  No, he tells her, they did not have sex though Emma later tells the guy that she would like to do it with him but, at the same time, she wants her first time to be special — especially since it might be her only time.  Emma is my favorite character on the show and Olivia Cooke always does a good job playing her, so I'm always glad to see her get to do something but I have to admit that her new boyfriend isn't exactly an exciting presence.  Typically, when it comes to television romance, we always hope that our favorite supporting character will end up with the show's main character.  Certainly, Emma still likes Norman but do we really want to see her get together with him?
Especially after what happened last night.
Freddie Highmore really does not get enough credit for his performance as young Norman Bates.  A lot of that is because Norman is written to be something of a blank.  Highmore has to bring to life a potentially soulless character while also working in the shadow of Anthony Perkins's iconic performance in Hitchcock's film.  However, especially during this season, Freddie Highmore has really made the character of Norman Bates his own.  That was especially obvious during this week's episode.  While soft-focus images of his mother being abused flashed through his mind, Norman waved a knife at Uncle Caleb while speaking in Norma's voice and it worked brilliantly because of Freddie Highmore's introspective performance.  Freddie Highmore take a potential jump sharking moment and turned it into the climax of the show's best episode yet.
Did Norman kill his uncle?  That's something that we'll have to wait until next week to find out but one thing is for sure.
Bates Motel, much like the characters who run the show's title establishment, is capable of anything.