Bates Motel 1.7 "The Man In Number 9" (Reviewed by Lisa Marie Bowman)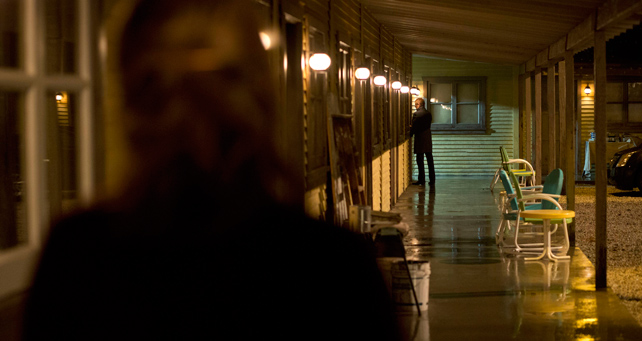 Really, Bates Motel?
After all that build-up and all the dramatic cliffhangers, that's how you resolve the Deputy Shelby subplot?
Last week's episode of Bates Motel ended with the evil Deputy Shelby (Mike Vogel) getting shot by Dylan (Max Thieriot) and ending up lying dead at the feet of Norma (Vera Farmiga) and Norman (Freddie Highmore).  How, we wondered, would the Bates Family get out of this one?  How would they handle the suspicions of Sheriff Romero (Nestor Carbonell)?  How could they possibly get anyone to believe what had happened, especially since Shelby's sex slave had disappeared into the woods?
Well, that was all resolved in the episode's first five minutes.  Romero showed up, believed everything that Norma told him, and agreed to help cover up the truth.  Problem solved.
Oh, and the missing sex slave?
Well, who knows?
To be honest, nobody seems to be too concerned about her.
Despite the fact that the rest of the episode was actually pretty well-done, it was all overshadowed by the anti-climatic resolution of the whole Shelby subplot.  (Or, as it was referred to in this episode, "The Deputy Shelby scandal.")  So far, Dylan, Norman, and Norma have — individually and together — murdered four people and they've managed to rather easily get away with it despite the fact that they live in a town where criminals are burned alive in the town square.
(Are we ever going to hear about that again?)
Anyway, once Romero let the Bates Family off the hook, Bates Motel got back to normal.  In preparation for the grand opening of the Bates Motel, Norma attempted to pass out some brochures at a few local businesses but was told that nobody wanted anything to do with the Bates Motel because of the "Deputy Shelby scandal."  I have to say that I laughed out loud when I heard that phrase.  I just imagined people driving by the Bates Motel and saying, "Did you hear about the Deputy Shelby scandal?"
However, there is a glimmer of sordid hope on the horizon when a guy named Jake (played by Jere Burns) shows up at the motel.  As Jake explains, he had a standing reservation with the motel's former owner for a block a rooms every few weeks.  It's pretty obvious from the first minute Jake shows up that he's evil and creepy but Norma needs the money…
Meanwhile, Norman has perhaps the worst week of his life.  He discovers a stray dog and starts feeding it.  He even names it Juno.  (At first, I assumed that he had named it after the Ellen Page movie but I doubt Norma would have allowed him to see that film.)   Then, Bradley (Nicola Paltz) rejects him, explaining that their sexual encounter was a one time thing.  An upset Norman walks back to the motel and arrives just in time to see Juno get run over by a passing car!
Picking up his dead dog, Norman announces that he's going to see Emma's father the taxidermist and that's where this episode ends.
There was a lot to like in last night's episode.  Jere Burns gave an appropriately creepy performance as Jake and Vera Farmiga continues to find the perfect balance between melodrama and camp.  However, the rather convenient resolution of the "Deputy Shelby scandal" overshadowed the entire episode.  Normally, I enjoy the melodramatic shifts on tone that have come to define Bates Motel but, during last night's episode, it was all just a bit too much.
Random Observations:
Jere Burns certainly is a creepy looking guy, isn't he?  He looks and occasionally sounds like he could be Christopher Walken's younger brother.
I say this nearly every week but Olivia Cooke really does deserve her own show where she plays a high school student who solves crimes in her spare time.  Her scenes with Vera Farmiga were a lot of fun.
Norma's sex talk with Norman was performed to squirm-inducing perfection by Farmiga and Freddie Highmore.
It looks like Bradley might like Dylan and who can blame her when Dylan's played by Max Thieriot?
When Norman was imagining being in bed with Bradley early in this episode, I briefly thought the show was acknowledging what I initially suspected — that Norman and Bradley's earlier encounter took place solely in Norman's mind.  However, it turns out I was wrong on both counts.
I wanted to cry when Norman's dog got run over.