Bates Motel 1.6 "The Truth" (Reviewed by Lisa Marie Bowman)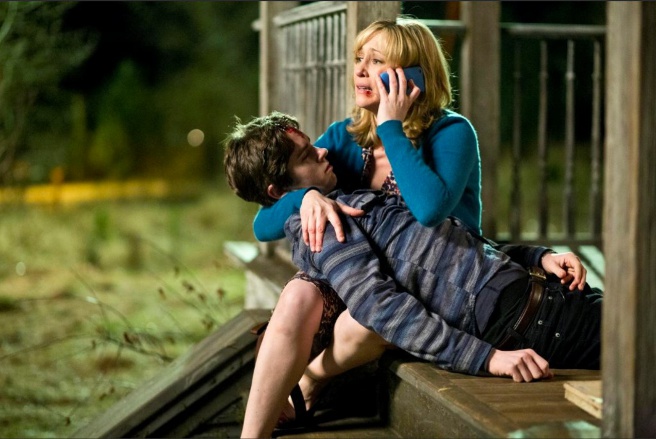 (Warning: Spoilers Ahead)
Ever since Bates Motel began, one of the central questions has been just who was responsible for the death of Norman's father.  The implication from the start was that Norma (Vera Farmiga) was responsible.  After all, the series began with Norman (Freddie Highmore) finding his father's body and Norma responding rather calmly to the whole situation.  It was Norma who insisted on leaving town, buying a motel, and starting a new life.  For the past five episodes, it's Norma who has been the dramatic and manipulative one while Norman has apparently been the one struggling to live a normal life while dealing with his overbearing mother.
In short, it was easy to assume that Norma was responsible.
That said, there has always been a number of viewers who have suspected that Norman would turn out to be the actual murderer.  When the show started, I was one of them.  However, I have to admit that, as Bates Motel progressed, I found myself so caught up in all the other subplots — like the return of Dylan (Max Thieriot) and the creepy Deputy Shelby (Mike Vogel) with his sex slave — that I forgot that there actually was any mystery about the death of Mr. Bates.  I figured it would be one of those plot points that would forever be left open to interpretation.
It turns out I was wrong because last night, the mystery was solved.  As Norma explained to Dylan, Mr. Bates was murdered by Norman.
And, with that explanation, Bates Motel suddenly made a lot more sense.
In the past, Bates Motel has often struggled to define itself.  Last night, however, Bates Motel finally had an identity.  Bates Motel is now a show about a mother trying to protect the world from her son and her son from himself.  With that one revelation, Norma went from villain to sympathetic character and Norman became a lot more creepier.
It'll be interesting to see how this development will play out over the rest of the series.  Should we be worried about Emma (Olivia Cooke) or the oddly-named Bradley (Nicola Peltz)?
While last night's episode was dominated by the truth about the death of Mr. Bates, it was also memorable for the fate of Deputy Shelby (Mike Vogel).  After discovering that his sex slave was at the motel, Shelby went on a rampage before finally being shot and killed by Dylan.  Last night's episode ended with the Bates family staring down at Shelby's dead body.
How much you want to bet that next week's episode will feature Shelby being dumped in a nearby swamp?
Random Observations:
The Truth is the best episode of Bates Motel so far.  It was certainly the first episode to have a true and definite idea of what the show is trying to be.
I loved Norma's awkward conversation with Emma (Olivia Cooke) at the beginning of the episode.  Emma desperately wants a mom and Norma is frightened of letting anyone get too close to her or Norman.  It created an interesting dynamic.
Judging from the previews, next week sees the return of Nestor Carbonell!  YAY!