Twilight Saga: Breaking Dawn Part 1 (Reviewed By: NikAngel)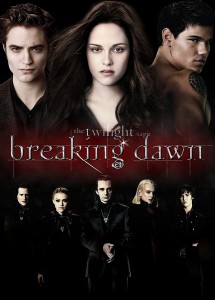 Twilight Saga: Breaking Dawn Part 1 (2011)
Before I review this film, I must recommend that to completely enjoy this series, the viewer should approach each installment with the mentality of a highly emotional teenager. Preferably, one with wildly magnified mood swings. Then, combine that with the idea that a vampire is a hundred times more intense than an emo adolescent. By following these instructions, you will more easily understand The Twilight saga. That being said, if you choose to view this film without having previously seen the earlier installments, if you are a non-fan or have mature expectations, you will find yourself absolutely disappointed.
In The Twilight Saga: Breaking Dawn Part 1 Bella (Kristen Stewart) and Edward (Robert Pattinson) marry, therefore they must deal with the consequences of their actions, which culminate in the tumultuous birth of a child.
The excitement begins with the opening sequence of an angry Jacob Black, tearing up the wedding invitation to Bella's and Edward's wedding, then tearing off his shirt. Next, it's time for the wedding of the century, yay! Lots of cute shoes, bags and Bella's 'to die for' Carolina Herrera wedding gown. After the nuptuals, Bella and Edward go off on their honeymoon where Edward accidentally impregnates his human bride. oops!
The vampire fetus, begins to grow at an astonishing rate and starts to take a toll on Bella's body. Bella deteriorates, almost to the brink of death because she is unable to eat, until they figure out that she can drink blood to keep the baby and herself alive. At this point, plot and dialog are unimportant, shallow at times and humorous at best. Eventually there's the expected clash between the werewolf and vampire clan, which turns into an unintentionally hilarious mess, complete with a scene where human voices are dubbed over CGI wolf footage. The movie culminates with the birth of the vampire child which is quite gruesome and brings the film back into it's darker essence. Let's say there is lots of gore and biting suspense with Bella's life hanging in the balance until the very last frame. Over all, the movie is a perfect set up for the final installment of the series.
*Editor: Ben Belin