The Last Exorcism (reviewed by Lisa Marie Bowman)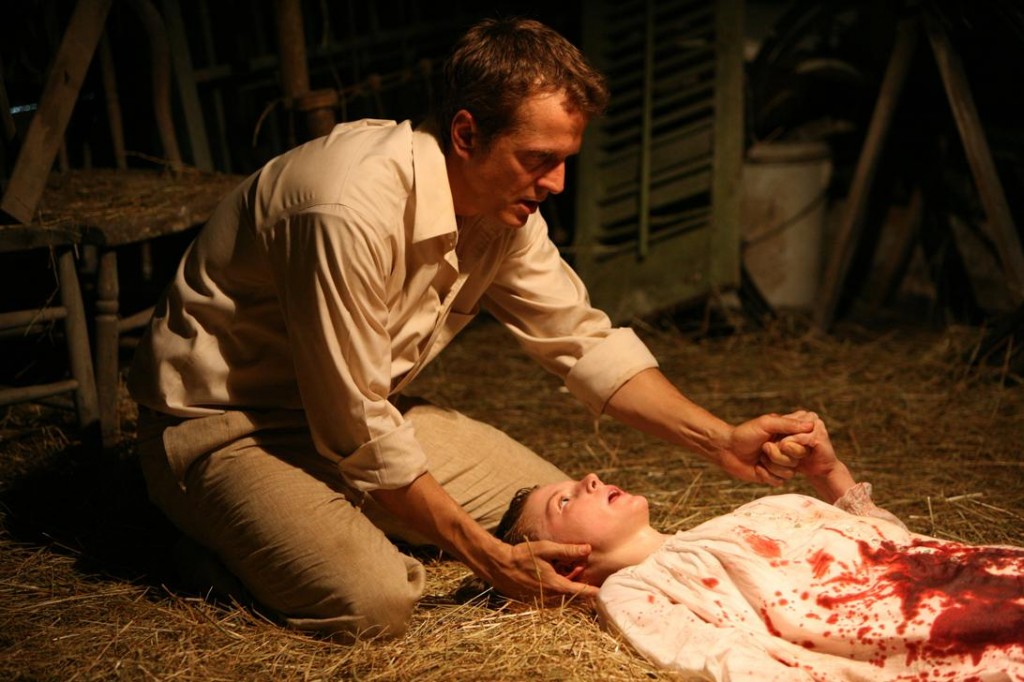 First released in 2010, The Last Exorcism is one of the best films of the past 4 years.
I know that a lot of people are going to disagree with that statement.  When The Last Exorcism was released, a lot of people were so angered by the way the film ended that they dismissed the entire movie.  Add to that, The Last Exorcism is yet another found footage horror film and that genre has produced a lot of truly terrible movies.  Whether fairly or not, a lot of people have judged The Last Exorcism on the basis of the sins committed by films like The Devil Inside.  With all that taken into consideration, it's perhaps not surprising that The Last Exorcism only has a rating of 5.7 on the IMDb.
However, those who casually dismiss The Last Exorcism are making a mistake.  The Last Exorcism is a hundred times better than it has any right to be.  If nothing else, it's probably one of the best found footage horror films ever made.
Produced by Eli Roth and directed by Daniel Stamm, the film opens with footage of the Rev. Cotton Marcus (Patrick Fabian) leading a revival meeting.  We quickly see that Marcus is a showman, a born actor who knows how to manipulate and control an audience.  In interviews with a mostly unseen film crew, Rev. Marcus also explains that he's both a highly successful exorcist and a complete fraud.  As he explains it, he has lost his faith and is participating in a documentary to reveal how he and other evangelical exorcists con and exploit their followers.  He's agreed to perform one last exorcism, specifically so he can reveal just how much of a fraud that he really is.
One of the more interesting aspect of this setup is that it's based on an actual documentary.  Released in 1972, Marjoe followed a former child evangelist named Marjoe Gortner as he conducted his last revival tour.  Talking directly to the camera, Marjoe would explain the tricks that he and other preachers would use to cheat the faithful out of their money.  The documentary, which won an Oscar for Best Documentary Feature in 1973, painted an intriguing picture of a con artist and The Last Exorcism does the same thing.
Marcus and the documentary film crew go out to a small rural community where farmer Louis Sweetzer (Louis Herthum) claims that his daughter, Nell (Ashley Bell) has been possessed by a demon.  Nell's brother, Caleb (Caleb Landry Jones)  is openly hostile to both Marcus and the documentary film crew.  Marcus, meanwhile, is convinced that Nell is faking.
However, as both the film and the exorcism progress, we are given reasons to suspect that Nell might actually be possessed.  While a good deal of the film's scares will be familiar to anyone who has ever seen a found footage horror film (there's the usual loud noises in isolated parts of the house and the menacing shadows glimpsed in the corners), the question of whether or not Nell is possessed is given extra importance by what the answer means to Cotton Marcus.  If Nell is faking, then Marcus's own loss of faith will be justified.  However, if it turns out that Nell actually is possessed than it will mean that Marcus hasn't merely been a con artist for his entire life.  If Nell actually is possessed, it'll prove the existence of a God that Marcus claims to no longer believe in.
Indeed, it's the character of Cotton Marcus who elevates The Last Exorcism over other entries in the found footage horror genre.  Much like Father Karras (as played by Jason Miller) in the original Exorcist, Marcus is a conflicted protagonist, a former man of faith who isn't quite as ready to give up on his belief as he originally seems.  As played by Patrick Fabian, Cotton Marcus is an intriguingly ambiguous hero.  At the beginning of the film, Fabian is spell-binding and believable as a fire-and-brimstone evangelist.  (In perhaps his best scene, he impishly sneaks a recipe for banana bread into his sermon.)  As the film progresses, Cotton Marcus goes from being an arrogant charlatan to being a very vulnerable and scared man and Fabian is both believable and compelling throughout the entire film.  Patrick Fabian elevates The Last Exorcism from being just an average (if effectively atmospheric) horror film to being a truly intriguing piece of pulp art.
As for the film's ending, I may be in a minority but I think it works.  The most common complaint about the film's final 15 minutes is that they tend to contradict everything that came before them.  I'm not sure that's necessarily true.  You have to remember that we've only seen the film's events through the perspective of the documentarians and we've only heard Marcus's admittedly biased interpretation of what's going on.  Perhaps the worst possible thing that you can really say about the ending is that it reveals that Marcus wasn't as clever as we previously assumed him to be.
The Last Exorcism 2 is coming out on March 1st.  Even though I've been let down by nearly every horror sequel that I've ever seen, I'm still planning on seeing it.  Yes, it'll probably be a disappointment but then again, I wasn't expecting much from the first Last Exorcism.  I went into the film expecting to see a typical horror rip-off and instead, I discovered that the film was actually a very intelligent and compelling character study of a flawed man trapped in a horrific situation.
As Cotton Marcus would probably agree, sometimes you just have to have a little faith.