Burnt Offerings (reviewed by Lisa Marie Bowman)
This 1976 film is about a family so obnoxious that their own house tries to kill them!
Well, kind of. Actually, the film suggests that the house would have tried to kill anyone who lived there because the house itself is possessed by ghosts or Satan or something of that nature. Still, you can't help but feel that the house took some extra joy out of destroying the Rolf family.
Ben (Oliver Reed) is a writer. Ben's wife, Marian (Karen Black), is a flake who becomes obsessed with the house as soon as she sees it. Their son 12 year-old son, Davey (Lee Montgomery), is …. well, there's no nice way to say this. He's a brat. He's the type of kid who you would be terrified of your kid befriending at school because then he'd want to come hang out at your house all the time. The movie doesn't seem to realize that he's a brat but the audience does. And finally, Aunt Elizabeth (Bette Davis) is Bette Davis, which means that she spends most of the movie delivering her lines in the most overdramatic and arch way possible.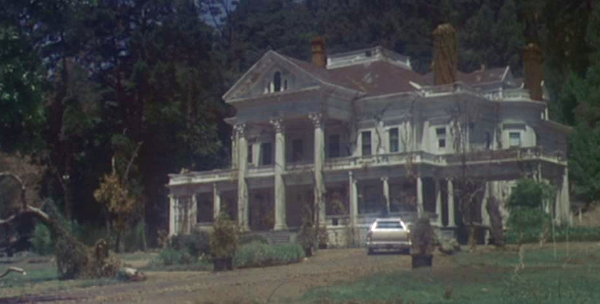 The Rolfs are renting the house for the summer. The owners of the house are the Allardyces (Burgess Meredith and Eileen Heckart) and you would think that people would know better than to rent a house from Burgess Meredith. I mean, how many horror films in the 70s specifically featured Meredith as some sort of emissary of the devil? The Rolfs are asked to do two things: look after the house and look after Mrs. Allardyce, who lives on the top floor and never wants to be disturbed. The Rolfs are assured that they'll never see Mrs Allardyce and the Rolfs are like, "Sure! That makes sense!"
Anyway, as soon as the Rolfs move in, the house starts to make weird noises and shingles start flying off the roof and, at one point, Ben nearly drowns his son in the pool. The house is evil but Marian loves it, almost as if she's becoming …. possessed! Meanwhile, Ben keeps having visions of a sinister looking chauffeur (Anthony James, whose creepy smile is the only memorable thing about this film) and Davey keeps standing too close to the outside chimney. You don't want to do that when a house hates your guts.
It all leads to the inevitable ending, which involves people getting tossed out of windows and *ahem* crushed by chimneys. The family's so obnoxious that you can't help but cheer when that chimney comes down. Things might not work out well for the Rolfs or anyone else watching this rather slow and predictable movie but at least the house survives.