10/31 (reviewed by Lisa Marie Bowman)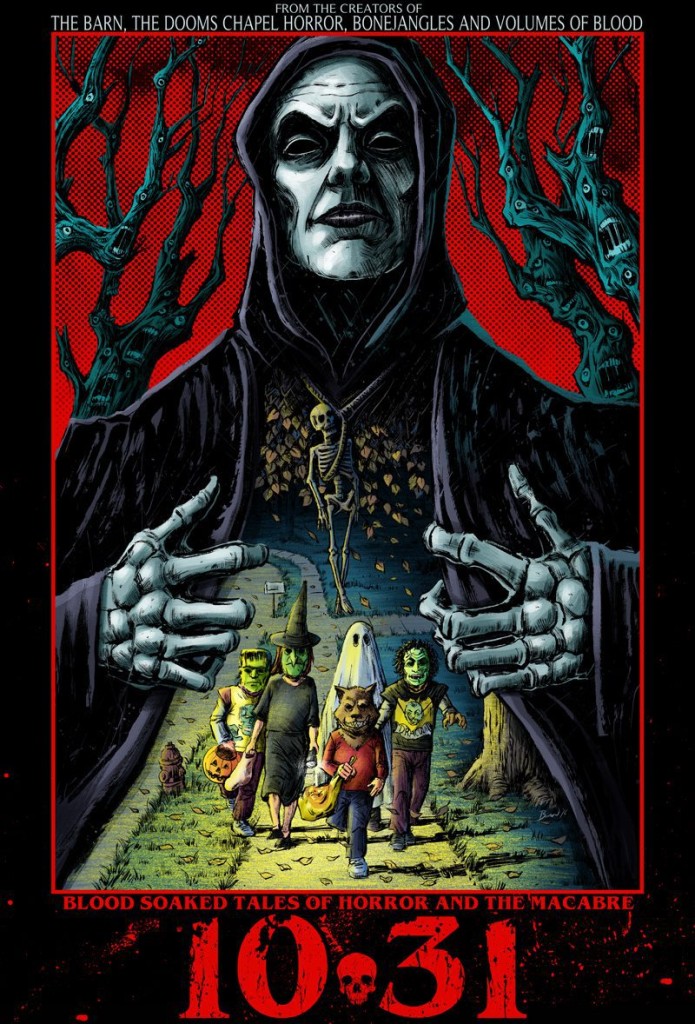 It's Halloween night and we all know what the means.  It's a time for candy.  It's a time for treats.  It's a time for tricks.  And it's definitely a time for a few frights.  Two costumed children sit in a dark room that is only partially illuminated by the flickering of their TV.  On the TV, the horror hostess Malviola (Jennifer Nagle) promises them a Halloween marathon unlike any other.
That segment (directed by Hunter Johnson) opens 10/31, an anthology horror film that features five different short films.  It's a good introduction, one that leaves the viewer with no doubt that the film that they are about to see was made by people who love horror for people who love horror.
The first segment was entitled The Old Hag and was directed by Justin M. Seaman.  It deals with two aspiring filmmakers attempting to shoot a commercial for a bed and breakfast on Halloween night.  It seems that the old place has something of a creepy reputation.  Though its proper name is The Montgomery Mansion, people in town call it the Gingerbeard House.
From the start, it's something of a troubled shoot.  For one thing, the owner of the mansion keeps yawning.  Apparently, it's been a while since she's had a good night sleep.  The other big problem is that one of the filmmakers keeps spotting an old woman hiding in the corners and occasionally wandering through the shot.  Of course, no one else can see her and the owner swears that she never has any guests on Halloween night…
The Old Hag was effectively atmospheric.  The two filmmakers were played by Nickolaus Joshua and Mitchell Musolino and they were both likable and their interaction was fun to eavesdrop on.  Outside of the story's horror element, I think anyone who has ever had to shoot a film under less than perfect circumstances will be able to relate to their struggle.
The Old Hag was followed by Trespassers, which was directed by Zane Hershberger.  Tresspassers is a film about the ultimate bad first date.  After watching a less-than-satisfactory movie (which, according to marquee at the theater, was titled Devilution), Stephanie (Sable Griedel) takes her date to an abandoned house.  It's a murder house, one that is rumored to still be haunted by a cursed scarecrow.  Needless to say, visiting a haunted murder house on Halloween is not the best way to conclude a first date.  Tresspassers featured a good performance from Sable Griedel and a fun twist at the end, along with some genuinely creepy flashbacks.  There's a good reason why crows aren't the only ones scared of scarecrows.
The third segment was my favorite.  Killing the Dance was directed by John William Holt.  It's Halloween at the roller rink and you know what that means!  Blood and dancing!  Actually, there's quite a bit of blood and quite a bit of dancing.  Killing the Dance is an exuberant and fun send-up of both slashers and roller diso films.  Along with a great soundtrack, the whole segment just has a delightfully retro feel to it.  The sight of people in Halloween costumes dancing on roller skates is both creepy and deliriously entertaining.  As well, this segment features perhaps the best Halloween costume of the entire film, a woman who has a baby alien bursting out of her chest.
The fourth segment is short but fun.  Entitled The Halloween Blizzard of '91 and directed by Brett DeJager, it's a film that asks the question: which is better, Halloween or Christmas?  Some people will say Halloween.  Some people will say Christmas.  It's a debate that has raged for years but it's never led to violence, at least not until the Halloween Blizzard of '91.
Seriously, everyone … don't get on Santa's bad side.
(Fans of horror anthology films will also be happy to know that Volumes of Blood gets a shout out during Halloween Blizzard of '91.)
The fifth and final segment is The Samhain Slasher, which was directed by Rocky Gray.  Moody and dream-like, The Samhain Slasher is the story of a serial killer, one that pays homage to the slasher films of the 80s while creating and maintaining an ominous atmosphere of its own.
As I said before, 10/31 is a film that was made for horror fans by horror fans.  It's an entertaining and fast-moving anthology film, with the five separate parts actually coming together very well.  It's a film that pays loving homage to horror history and one that I think any horror fan will enjoy.