The Curse of the Cat People (reviewed by Lisa Marie Bowman)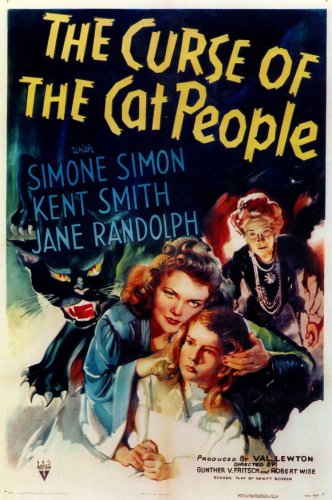 So, you can add the 1944 film The Curse of the Cat People to the list of films that made me cry.
And I know that you're probably going to point out that it's already a very long list and I know that some people believe that I cry at every movie that I see.  (Listen, if I cried every time that I watched a movie, that would mean that not a single hour would pass without me shedding tears and … well, anyway, lets move on…)  But seriously, The Curse of the Cat People is a wonderful and heartfelt film.
Technically, it's a sequel to the original Cat People.  Oliver (Kent Smith) and Alice (Jane Randolph) are married now and they have a six year-old daughter named Amy (Ann Carter).  Irena (Simone Simon) does return but we're never quite sure whether she's a ghost or if she's meant to be a figment of Amy's imagination.  There is no mention of Irena being cursed, though a hissing cat does make an appearance at the beginning of the film.  In the original Cat People, Elizabeth Russell played a mysterious woman who asked if Irena was her sister.  In The Curse of the Cat People, Russell appears in a different role but, interestingly enough, she's still linked to the memory of Irena.
Instead, The Curse of the Cat People is about Amy.  Amy is a shy girl who spends most of her time daydreaming and Ann Carter (who was 8 years old at the time) gives a very real and very authentic performance, one that is totally the opposite of the type of performance that we often expect from child actors.  I was a shy child myself (I was famous for always hiding behind my mom whenever I saw a stranger approaching) and, from the minute Amy appeared, I knew exactly how she felt and what was going through her mind.
While Alice feels that Amy's daydreaming is harmless, Oliver worries about her daughter.  At one point, he says that he fears that she'll never leave her fantasy world and that she'll grow up to be like Irena.  (Interestingly enough, this line suggests that Oliver still doesn't believe that Irena was actually a cat person.)  Amy, meanwhile, has a vision of Irena standing in the backyard and soon, the two of them are best friends.
At the same time, Amy has also become friends with Julia Farren (Julia Dean), an elderly woman who lives in the neighborhood.  Just like Amy, Julia lives in a fantasy world.  She treats Amy like her own daughter.  Meanwhile, Julia refuses to acknowledge her true daughter, Barbara (Elizabeth Russell), accusing Barbara of being a spy and saying she is only pretending to be her daughter.  Barbara grows more and more resentful of Amy and that resentment leads her to consider doing a truly terrible thing.
I guess it's debatable whether or not The Curse of the Cat People can truly be called a horror film.  While it does have elements of the horror genre, The Curse of the Cat People is ultimately both a coming-of-age story and a plea for adults to allow their children to be children.  It's all so heartfelt and so wonderfully performed by Ann Carter, Kent Smith, Jane Randolph, Elizabeth Russell, and Simone Simon that I couldn't help but cry at the end of the film.  The Curse of the Cat People is a great film to watch this month or any other month!
Please follow and like us:
Skip back to main navigation