The Lazarus Effect (reviewed by Lisa Marie Bowman)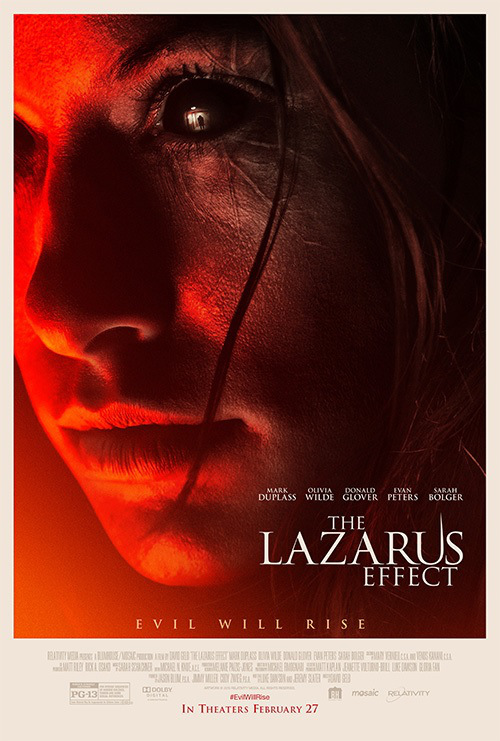 I finally saw The Lazarus Effect and … bleh, who cares?  You may remember that the Lazarus Effect came out earlier this year and it got some attention because it was one of the first horror films to be theatrically released in 2015.  But then the reviews came in and they were all awful.  And then the movie opened in theaters and audiences saw it and soon, social media was full of tweets and updates about how disappointing the film was.  I meant to see it but the movie just kind of came and went.  Looking at my records, I can see that — when the Lazarus Effect was still in theaters — I instead chose to see Kingsman, Cinderella, and Maps to the Stars.
But, last night, I finally found the time to watch The Lazarus Effect and … well, I think I made the right decision skipping it.  The Lazarus Effect is about a bunch of scientists who discover a serum that can be used to raise the dead.  For instance, they use it to bring back to life a dog but guess what?  The dog isn't very happy to be back and he spends most of the movie glaring at every human that he sees.  One of the scientists (played by Olivia Wilde) worries that the dog may have happily been in "doggie heaven" and now resents being brought back to life.  Mark Duplass, playing her boyfriend and fellow scientists, laughs at her but it turns out that Wilde had a point.
The other scientists are played by Donald Glover and Evan Peters.  There's also a videographer, played by Sarah Bloger, who is there to record all of the experiments.  You may notice that I'm not using any character names and that's because the characters themselves are not that memorable.  You remember them because of who played them and not because of anything that the character may have said or done.  It's true that The Lazarus Effect has a pretty good cast but it doesn't matter because none of them are really given anything worthwhile to do.  It's not so much that anyone gives a bad performance — though the usually very effective Mark Duplass certainly does come close — as much as it's just a case that the characters just aren't that interesting.  They're all recognizable stereotypes and, if you can't exactly predict the order in which they all die from the minute they show up on screen, you obviously haven't seen enough horror movies.
Anyway, after they bring the dog back to life, Olivia Wilde ends up getting electrocuted so, of course, Mark Duplass decides to use the serum to bring her back to life.  Needless, that was a big mistake.  Not only does she return with a lot of super powers but it appears that Wilde left her soul in whatever afterlife she was inhabiting.
So, now, you've got an angry Olivia Wilde wandering around and killing people…
And it should be interesting but it's not.  The idea has promise but the movie does nothing new or unusual with it and the talented cast mostly just goes through the motions.  The Lazarus Effect ends with the promise of a possible sequel.  Let's hope it's a promise unfulfilled.
Skip back to main navigation