Sleepwalkers (Reviewed by Lisa Marie Bowman)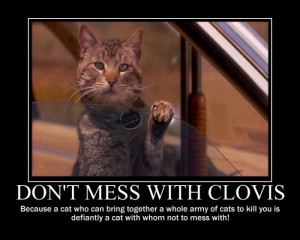 So, last night, I was looking for something to watch and I came across Sleepwalkers, a horror film from 1992.  And you know what?  I could sit here and I could get all snarky about Sleepwalkers and I could be hypercritical and all that other stuff.  It's tempting because the film was written by Stephen King and Stephen King has had so much success that it's easy to be overly critical of anything he's involved with.
But I'm not going to do that.  Or, at least, that's not my main objective with this review.  No, with this review, I want to pay tribute to cat named Clovis.
You see, there are several humans and humanoids in Sleepwalkers.  The film is about two energy vampires — Charles (Brian Krause) and his mother Mary (Alice Krige) — who have an icky incestuous relationship and who need to suck energy from virgins in order to survive.  Charles, who appears to be a teenager, has selected Tanya (Madchen Amick) as his latest target.  Tanya has loving parents (Lyman Ward and Cindy Pickett, who also played Ferris Bueller's parents) and there's also a creepy English teacher (Glenn Shadix) who tries to blackmail Charles and ends up losing a hand as a result.  There's several police officers, one of whom is killed when a corncob is driven into his spine.  And Steven King appears in an awkward cameo, along with Clive Barker and Tobe Hooper.
That's right — there's a lot of people in this movie but none of them made as big an impression as Sparks, the talented little kitty who plays Clovis.  Seriously, check Clovis out!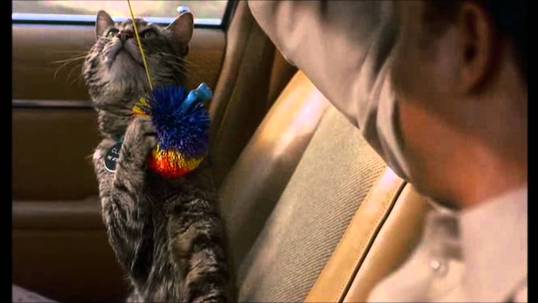 You see, there's only one thing that can kill Charles and Mary and that's the scratch of a cat.  From the minute that Charles and Mary move into their latest home, cats start to gather outside the house, meowing and just waiting for their chance to pounce.  And, when it comes time for the cats to finally make their movie, who is their leader?
CLOVIS!
After Charles kills Clovis's owner, Clovis gathers every other cat around and we watch as, in slow motion, they run through the streets of the town.  That's right — whatever else you may want to say about Sleepwalkers, this is a movie where cats finally get to kick some ass.
And who is the main ass kicker?
Little Clovis, of course!
At the end of the film, Tanya might not have many people left in her life but she's got Clovis and, because of that, you know that everything's going to be okay.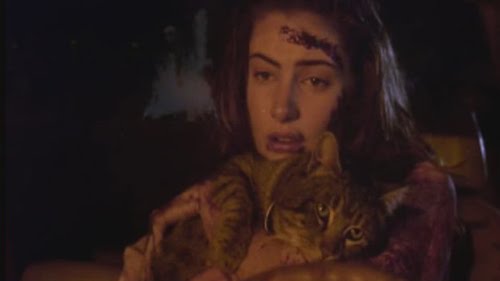 As for the rest of Sleepwalkers … well, it's watchable but it still really doesn't make a huge impression.  And, to be honest, that really is the fault of the script.  It's hard to know who (out of the humans) you're supposed to care about.  Charles and Mary are pure evil and Charles has a really bad habit of speaking in lame one liners.  Tanya, meanwhile, is well-played by Madchen Amick but, as written, she's a bit of a nonentity.  There is one fun scene when Tanya dances but then again, you have to wonder why movies, regardless of when they were made, always insist on making teenagers dance to songs that were written decades before they were born.
Fortunately, the film has Clovis.  Not only does he save the day but he saves the movie as well!
GO CLOVIS!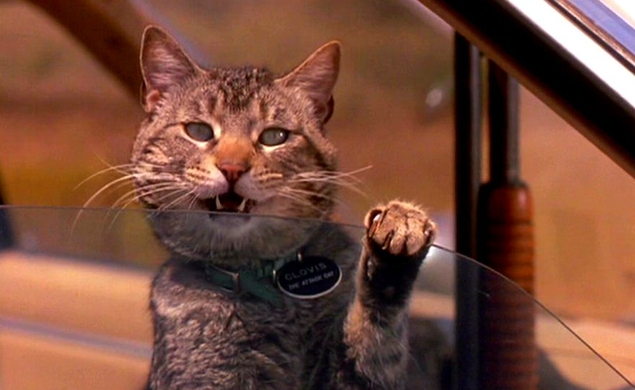 Skip back to main navigation