An American Werewolf in London (reviewed by Lisa Marie Bowman)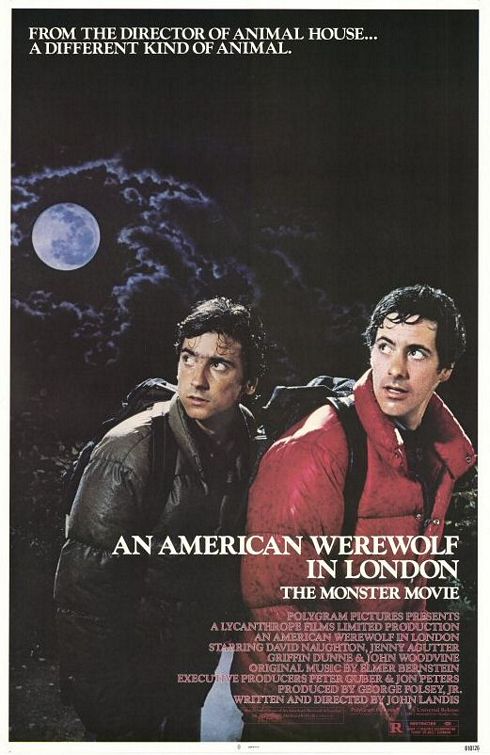 I resisted seeing An American Werewolf in London for quite some time because 1) I kept mixing the film up with its "sequel," An American Werewolf in Paris (which is seriously one of the worst films ever made) and 2) werewolves scare me in a way that vampires and zombies don't.  Seriously, what is a werewolf other than a really big pit bull and to say that I'm not a dog person is an understatement.  However, two Octobers ago, I decided to give the film a chance. I watched it and I'm glad that I did.
Originally released way back in 1981, An American Werewolf in London starts with two nice guys from New York (played by David Naughton and Griffin Dunne) backpacking across England.  They stop in one of those proverbial, fog-drenched English villages where they are told, by the secretive town folk, to stay off the moors.  Naughton and Dunne promptly wander into the moors.  "Whoops," they literally say as the full moon shines behind them.  Suddenly, they are attacked by some sort of wild animal.  Dunne is killed and a severely wounded Naughton wakes up days later in a London hospital.
While recovering in the hospital, Naughton meets and starts up a tentative romance with his nurse (Jenny Agutter) even as he finds himself haunted by disturbing graphic nightmares in which he sees his family being massacred by humanoid wolves dressed up like storm troopers.  (Seriously, these genuinely disturbing nightmares were so seamlessly worked into film that they took me totally by surprise.)  Even worse, Dunne's progressively decaying corpse keeps popping up in his hospital room and telling him that 1) they were attacked by a werewolf, 2) Dunne's spirit is trapped on Earth until the werewolf's bloodline is extinguished, and 3) that bloodline is currently being carried on by Naughton.  Fearing for his sanity, Naughton moves into Agutter's flat after he's released from the hospital and, for a brief moment, it actually seems like he might actually be okay.
And then, inevitably, a full moon rises and soon, there's an American werewolf in London…
An American Werewolf in London is an oddly succesful hybrid of genres that don't always mix well: it's scarier than Paranormal Activity, funnier than any Scary Movie, and ultimately more romantic than any of the Twilight films.  David Naughton and Jenny Agutter are both so appealing in this film that you actually get invested in their relationship and, as a result, the inevitably of the film's conclusion becomes all the more tragic.  As this film was pre-CGI, Naughton actually had to act out the process of transforming into a werewolf and, as a result, An American Werewolf in London feels real in a way that most werewolf films do not.
Director John Landis manages to maintain a perfect balance between the horror and the comedy and, as a result, I found myself both laughing out loud and hiding my eyes throughout this entire film.  For me, the scariest scene in the film comes when an unfortunate commuter finds himself being tracked through a nearly deserted tube station by our werewolf.  Landis  wisely draws the sequence out, with the camera taking on the point-of-view of the prowling werewolf.  Seriously, this growls heard during this whole sequence reminded me of why I'm so scared of big dogs.  The other stand-out sequence comes towards the end of the film, in which Naughton takes refuge in a filthy porno theater and talks to Dunne (who, by this point, is just a skeleton).  Dunne, it turns out, has brought with him the spirits of all the people who Naughton killed during the last full moon.  So, while Dunne and his new friends encourage Naughton to commit suicide and Naughton starts to painfully transform into a werewolf, the worst porno film ever made is playing in front of them.  The scene — with its perfect mix of tragedy, comedy, and horror — epitomizes everything that makes An American Werewolf in London work as a film.
One final note: one of the problems that I have with a whole lot of horror films is that they rarely make good use of their setting.  Whether it's that old deserted building or that piece of wilderness that's not on anyone's map, horror locations often feel as a generic as horror plots.  However, Landis makes good use of both London and the English countryside here and this is a film that really should serve as a lesson for aspiring horror filmmakers todays.  Of course, it helps that the location in question happens to be London with all of its gothic traditions and old school horror heritage.  Let's face it — An American Werewolf in St. Louis just doesn't carry the same punch.